Free Assessment
For new clients, we are offering a no-obligation health assessment of your computer network and business technology. We will analyze your network to identify vulnerabilities that could leave your organization at risk of a business interruption.  Depending on what we uncover, we will also make suggestions on ways to prevent unauthorized access, augment security systems, better lock down sensitive data, become more mobile and, in general, get more out of your existing technology infrastructure.
You will receive our Client Risk Report, a 6 to 8 page Executive Summary that provides an overview of the devices on the network along with a network Risk Score and analysis of each potential issue we uncover. We will review this document with you, discuss the findings in detail, and answer any questions you may have.
It's a $1,000.00 value, offered at no cost to qualifying organizations.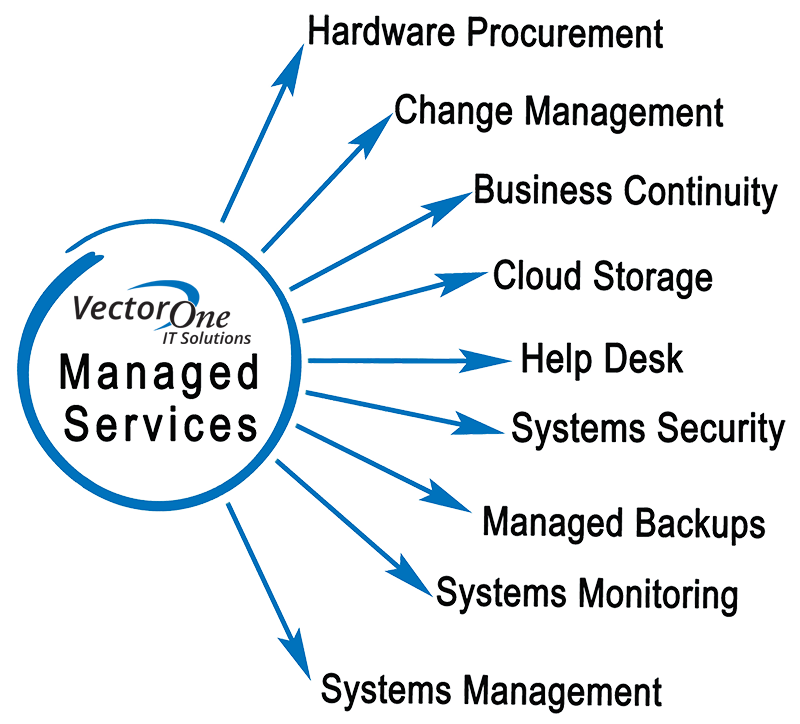 Managed Services
For our managed service clients, we become your IT department for a fixed monthly price.  No surprise bills, we "take ownership" for your IT environment, taking care of everything in your network… users, too!  Let us focus on your IT, so you can focus on your business.
What's included?  We tailor our managed service offering to each client's individual needs, which may include some or all of the following:
Remote monitoring and alerting for all servers, workstations, and network devices
Unlimited support and administration
Help desk
Backup
Network Security
Cloud / subscription services
We also offer "hybrid managed services," where we provide all of the same services at hourly rates.
Sometimes you just need some supplemental expertise for a particular project that you may not have time for, or you just need it done right the first time. We'll work with you or your IT staff on an hourly or fixed-cost project basis. Typical project engagements might include:
Strategic IT consulting

Server, workstation, or application deployment

Upgrades, migrations, or consolidations

Virtualization

Troubleshooting and remediation

and more!
Cloud Services
By "the cloud", we mean any externally hosted service or application, typically on a subscription basis.  Some solutions leverage both on-premise and "in the cloud" components to best meet your needs.  Offerings include:
Proactive monitoring and alerting
Backup and disaster recovery
Cybersecurity
Hosted email / MS Exchange
IP Telephony / VoIP
Antivirus / malware protection
File sharing and synchronization
Security & Network Integrity
Network integrity is a broad term, going beyond just security, to include:
Security

Availability

Performance

Recoverability
We leverage multiple tools and products to create a customized defense-in-depth strategy that is "right-sized" to your needs and budget, which might include:
Antivirus

Application Whitelisting

Backup and rapid recovery

Centralized administration

Clustering for high availability

Cyber Insurance

Encryption

Firewalls with advanced security features

Intrusion prevention

Mail filtering

Monitoring and alerting

Password management

Patching / updating

Performance tuning

Policy development

Redundancy for critical components

User training

Vulnerability assessment

Web filtering

Wireless security
Backup & Disaster Recovery
Your number one defense against data loss is the performance of regular backups.  What causes data loss?
Systems failure
User error
Malicious users
Malicious software, especially ransomware
Fire, flood, locusts! OK… maybe not locusts.
Not all backups are equal, and it's not one size fits all.  We'll design and implement a backup solution appropriate to your needs, which might include:
Backup for servers and databases
Backup for desktops and laptops
Backup for cloud data, like MS Office 365
Rapid recovery
Disaster recovery "in the cloud" or at a secondary site of your own
We work with our clients to determine the best solutions to help them work from home, on the road… anywhere! Work-from-home solutions might include any or all of:
Terminal services

Virtual Private Networking (VPN)

Desktop remote control

File synchronization
Cyber insurance can be complicated, which is why Vector One has teamed up with Zeguro to simplify purchasing cyber insurance for you so you can make the most informed decision about your cyber insurance needs. Zeguro Cyber Insurance provides comprehensive coverage so your organization can meet contractual requirements and continue to thrive with minimal disruption should a data breach occur.
Partners & Procurement
Vector One partners with leading information technology vendors, manufacturers, and distributors.  We leverage our partnerships to get you the right products at the right price, including from: